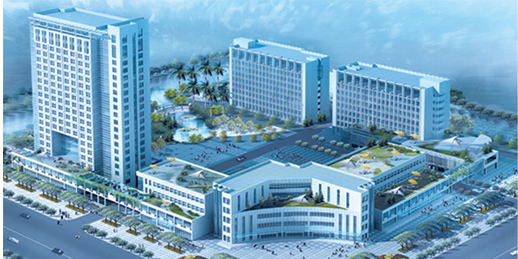 Jiangsu Hanjian Group Co., Ltd., formerly known as the construction servicing company of Jiangsu Hanjiang District, was established in 1972 with the history of 42 years. In 1997, as one of the first standard form group of construction company around Jiangsu Province according to the 144th document of the Government of Jiangsu Province, the Group was the piloting corporation Group of the Ministry of Housing and Urban- Rural Development, the Group key supported by the head office of China Construction Bank. Till 2003, the Group has taken the lead in reforming of property rights system around the peers in Yangzhou, becoming one of the shareholding corporation held by individuals. Group of parent - subsidiary corporation has more than 1 billion China yuan of registered capital, and Jiangsu Hanjian Group of parent company has registered capital of 445.439 million China yuan, having more than 2500 professional personnel, including more than 860 staffs entitled intermediate or senior professional titles, and more than 200 project managers.

The Group has national top grade qualification in general contracting of housing construction, grade A certificate (top grade) of design in construction industry, first class (second top grade) qualification of general contracting of municipal utilities, second class (third top grade) qualification of general contracting of hydraulic and hydro-power engineering construction, third class (fourth top grade) qualification of general contracting of railway engineering construction, as well as first class qualification of special contracting of construction decoration engineering, the installation engineering of mechanical-electrical equipment, fire protection facilities engineering, construction curtain wall engineering, foundation and infrastructure engineering, and also second class qualification of special contracting of steel frame engineering, bridge engineering, the installation engineering of lifting plant, channel project.

Strategically, the Group has built a greater system of construction diversely and deeply, forging four key business segments as construction, real estate, infrastructure, related business, establishing and perfecting the Group's five center of fund, human resource, equipment, material, and manpower, operating civil construction, installation, decoration, real estate, hydraulic and hydro-power engineering, steel frame, roads, municipal engineering, garden, foreign economy and trade, construction material production and market, financial investment, property management and IT industry, modern agriculture and so on. Meanwhile, the Group has the right for foreign contracting, has been certified by Quality Management System, EMS, and OSH system, successfully transferring toward the integration of investment and construction, diversity of industries, and domestic and overseas synchronization.

The Group has paid great attention to scientific innovation and the management of quality and safety, adhering consistently the quality policy of dedicating to society with our sweat and wisdom, and the environmental policy of insisting on humanistic spirit, creating green environment, pursuing harmony. The Group has been entitled 24 of China Building Construction Luban Awards which is the top grade Awards in construction industry, National Prime-Quality Project Awards which is also top grade in quality management, the Star of China Installation Engineering and National Construction Decoration Engineering Awards which is the top grade Awards in installation and decoration industry, as well as more than 100 of Prime-Quality Project Awards in Jiangsu Province, granted the 30th anniversary of the outstanding contribution corporation of National Prime-Quality Project Awards, the outstanding corporation of quality management of national construction project, the advanced corporation of construction and technology around the construction industry in Jiangsu Province in th 11th Five-Year Plan. The Group is the chief editor of national professional standard, having 4 National Invention Patents, 20 Utility Model Patents,5 National Grade Normalized Construction Methods, 6 National Achievement of Quality Control, 7 National Copyright Register Certificates. The Group is evaluated as the Advanced corporation of Safety Production in Jiangsu Province continuously, achieving 9 National AAA Safe and Civilized Construction Site, more than 100 Civilized Site around Jiangsu Province. For now, the Group has the 21 branch company, 25 subsidiary company, 6 shareholding company, 9 cooperative members, covering over national 30 provinces, direct-controlled municipality and autonomous region currently, and overseas markets like Middle East, Africa, Southeast Asia and so on. In 2014, the Group processes 13.8 billion China yuan in total production value.

Over years of development and accumulation, the comprehensive strength and influence of brand expanding continuously, the Group has been listed 280th among China's Top 500 Private Enterprises, and the 61st among China's Top 100 Competitive Enterprises in Construction Industry, as well as the 53rd among China's Top 60 Contractors, and Jiangsu Province's Top 100 Construction Enterprises, Jiangsu Province's Top 100 Private Enterprises, entitling National Outstanding Construction Enterprise, National Advanced Enterprise in Construction Industry, National AAA Grade Credit Enterprise in Construction Industry, National Advanced Enterprise in the System of Employment and Social Security, National Outstanding Enterprise in the Creating of Enterprise's Culture, Optimum Enterprise in Jiangsu Province, Famous Engineering and Contracting Enterprise, Top Taxpayer in Jiangsu Province, Credit Enterprise in Jiangsu Province with AAA Grade, Advanced Enterprise in Spirit Civilizing in Jiangsu Province, May 1st Labor Awardsing Enterprise in Jiangsu Province, Enterprise Honoring Contracts and Operating by Reputation.

To adapt to the new normal, basing on the new platform, Jiangsu Hanjian Group carries on keeping the market as the guide, keeping the benefit as the core, being driven by reform, promoting the system innovation, mechanism innovation and technology innovation, striving for the diversification, conglomeration and modern of the Group without any stop.